NJ.com Reveals the Most Dangerous New Jersey Amusement Parks
When a family, teen, or friends set out for a day of fun and sun at a theme park or amusement park, they expect to be protected from known risks and dangers that are present at the park. Park-goers rely on the actions of regulators and park employees to identify and correct issues before they can cause life-altering injuries or death. Most amusement park visits do indeed proceed smoothly and without incident. However, it only takes one single error or mistake to irreversibly transform a day of summer fun into an amusement park tragedy.
While New Jersey's regulations of amusements and theme parks are better than in other states since regulators play an essential role in catching problems and keeping visitors to New Jersey amusement parks safe, there are still far too few regulators to catch all problems that exist. However, there is a saying that "sunlight is the best disinfectant." That is, consumers should be presented with complete and accurate park safety and accident data so that they can make informed choices about the parks that fit their safety concerns. To this end, NJ Advance Media has compiled and analyzed park accidents as originally reported by the New Jersey Department of Community Affairs. The data provides a window into park safety and park accidents.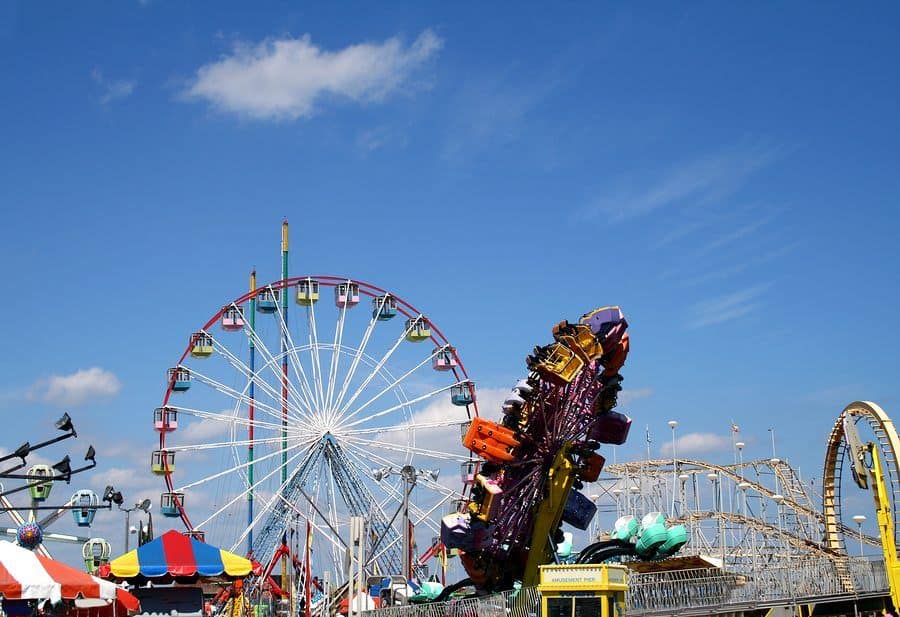 Overall New Jersey Theme Park Accident Statistics
Under New Jersey State Law, incidents that occur at fairs and amusement parks must be reported. The law requires a report within 24 hours for any, "ride-related injury requiring first aid, or any mechanical malfunction, or an emergency evacuation of the ride." The data was requested and received by NJ Advance Media through an Open Public Records Act request.
On the whole, the number of carnival, fair, and amusement injuries were up slightly in 2014. Total amusement park injuries in New Jersey in 2014 totaled 139 compared to 113 injuries in the year prior. 2014's result continued the see-saw pattern that has been seen regarding injuries over the past few years. That is injuries were also greater in 2012 than they were in both 2013 and 2012. The reasons for this oscillation in injuries is not clear, however the good news is that accidents in 2014 are lower than the most recent peak in 2010 when 197 were reported.
Other good news from the accident data includes the fact that 2014 represented another year in New Jersey without an amusement park death. The last ride or attraction-related death to occur in the state happened in 2011 when an 11 year-old girl fell from a Wildwood Ferris wheel. There have been five amusement park deaths in NJ since 1997.
Focusing in on Accidents at Individual Theme Parks
As has been the case in several past years, Action Park in Vernon had the most accident reports in 2014 with 25. The Tarzan Swing and the Cannonball falls were not only Action Park's biggest sources of injury complaints, these attractions topped complaints for the entire state. The Tarzan Swing requires a rider to swing on a rope into a pool of water. The Cannonball Falls slide sends riders down an enclosed water tube where they drop roughly ten feet into a pool.  Unlike the overall number of accidents that trended downwards, the accidents at Action Park actually increased from 2013's 19 reported incidents. However 2014 still represented a decrease from the park's accident reports peak in 2012 when 70 accidents and injuries were reported. For context, the much larger Six Flags Great Adventure Theme Park and Hurricane Harbor water park each reported only 11 incidents at the parks, respectively.
Types of Accidents at New Jersey Amusement Parks
While many people envision high-profile accidents, violent collisions, and other elaborate accidents at amusement parks, the fact is that an array of injuries occurred at New Jersey theme parks over the course of 2014.
Many of the injuries are a product of the loading or unloading procedure for the ride. A July 2014 accident at the Land Of Make-Believe occurred while loading the Tilt-a-Whirl. A guest was running and slipped and fell.   A 2013 injury on Action Park's Tide Slide occurred when a, "[g]uest stepped into the Tide Slide to ride, slipped and fell backwards. His head hit the corner of the slide, possibly the water jet resulting in a small laceration and hematoma at the back of the head."
However some incidents were the product of ride mechanical or systems malfunctions. A 2014 report from Surfside Pier indicates that the log flume malfunctioned after inexplicably moving into "safe mode." IN 2013, Morey's Piers and Beachfront Parks reported issues with its Zoom Phloom's water level and terminal conveyor. At Six Flags Great Adventure in 2014, a rider of the Runaway Train reported that she struck her left knee and leg on the lap bar when the bar opened during the ride.
These injuries show that it is essential for parks to devise and implement procedures to reduce the risk of injury or death during the loading and unloading phases of a ride. Rides with dangerous designs that increase a tripping risk or loading and unloading procedures that rush the guest or do not provide ample light to exit the ride increase the risk of serious accident and injury.
Injured at an Amusement Park?
For more than three decades, the amusement park injury and accident attorneys of The Reiff Law Firm have fought for people seriously injured at carnivals, fairs, water parks, and theme parks. To schedule a free personal injury consultation, call (215) 709-6940.